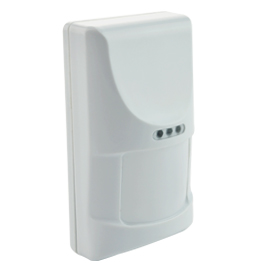 HS-230P
Update:2016/6/18 18:02:50 View:797
Type:

Wireless PIR Motion Sensor

Description:

◆Operation voltage:2*1.5V AA battery
◆Working current:standby≤12uA ;alarm≤15mA
◆Detection distance:12m
◆Detecting angle:100°
◆Mounting height:1.8~2.4m
◆Operation environment:-25℃~+55℃
◆Wireless frequency:315/433;EV1527
Introduction
1. EV1527 or PT2262 encoded signals, broad compatibility.
2. Low voltage,super-low power consumption design.
3. MCU signal processing technology, a comprehensive analysis of false alarm factors.
4. Anti-EMI / RFI; test mode and use modes optional, energy-efficient, alarm cycle 4 minutes.
5. Two levels pulse count optional,application of different occasions.
6. Full range temperature compensation,avoid distance be disturbed by temperature.
7. Wide-angle,long distance and curtain lens optional, use more flexible.
Working voltage
2*1.5V AA battery
Working current
standby≤12uA ;alarm≤15mA
Wireless frequency
315/433mhz;EV1527
Detecting angle
12m*12m 100°(Wide Angle)
12m*12m 100°(Anti Pet)
12m*6m 15°(Anti Pet)
Pet immunity
20kg
Installation height
1.5~2.4m
Anti white light interference
>100000LUX
Anti RFI/EMI interference
10V/M (10MHz-1000MHz)
Operation environment:
-25℃~+55℃
Size
109*65*47MM
More Products